A couple weeks ago, I was on a portrait spree for the paper. I am one of our main portrait shooters and really liked the way a couple of them turned out.
The first is of Neil Barofsky. Who is Neil Barofsky you ask?? He is the guy tasked to make sure all your (our) Troubled Asset Relief Program (TARP) $$ isn't being wasted — or at least not too much! It was one of those normal portraits where you are given a very non-cool conference room and asked to make something of it.
I just loved this square window looking out to other downtown buildings. After turning off all the lights in the room, I attached an SB-800 on a Justin Clamp into the drop ceiling tiles and put on a Honl Snoot to narrow the beam.  I ended up getting the reflection in the window above his head but I actually liked it so I didn't reposition anything.  I first exposed for the outside and then added to it to get the room dark but a narrow beam on him with the right exposure.  The Justin Clamps and the Honl system really help me to walk into a room and completely change it on the fly.
Neil was actually a really nice guy.  A little uncomfortable in front of the camera but I completely understand that (that's why I'm behind it!).  A little direction and we got a nice serious look from him right before the clouds came over the buildings behind us.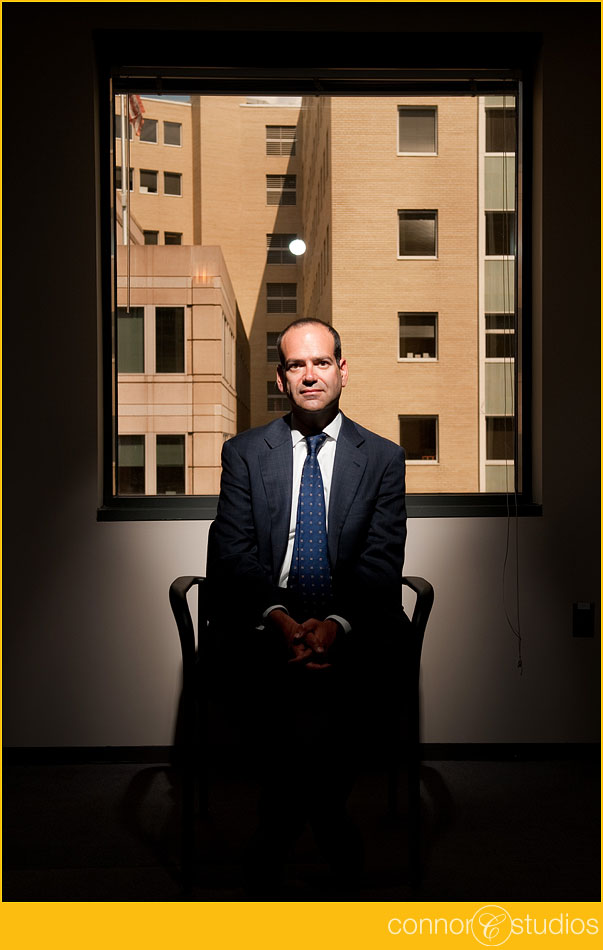 The next day I got sent up to the University of Maryland to take a portrait of Jerome Burney, a basketball player who has been sidelined for four fractures in his feet.  Jerome and I share a lot in common – our height (6'9″), our incredible athletic prowess and physique to just name a few!  🙂  Ha!
I was hoping to have a part of the court to shoot him on but when we arrived, there were about 100 kids from some summer basketball camp taking up all the courts.  Instead, since he had been sidelined, I thought it would actually better to shoot him in the stands looking out to the court.
Out came the trusty Justin Clamps and one was attached to the railing right in front of him with a Honl Card attached to the right to keep the light from spilling my way.  The other was behind him pointed my way to light the seats.  Full disclosure: I don't get anything for promoting the Bogen Justin Clamps or the Honl flash systems (but I would take it if they offered!).  I just really like how easy they make my life!